North Caldwell has consistently been ranked as one of the wealthiest towns in the state as well as in the entire country. Along with the towns of West Caldwell and Caldwell, it is part of a group of three Essex County municipalities located about 16 miles west of Manhattan which all have the word Caldwell in them. The term "The Caldwells" is often used to refer to the area.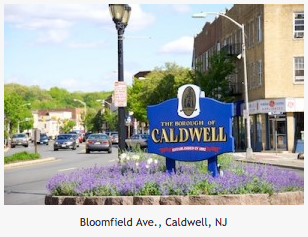 Each town has its own local government and feel.
North Caldwell
North Caldwell is bordered by Cedar Grove, Wayne, Fairfield Township, West Caldwell, Essex Fells and Verona. It's 6,000 or so residents live in about an area of 3 square miles.
New Jersey Monthly magazine ranked North Caldwell as its 10th best place to live in its 2010 rankings of the "Best Places to Live" in New Jersey.
The North Caldwell Public Schools serve students in kindergarten through sixth grade. There is the Grandview School (grades K-3) and Gould School (grades 4-6). North Caldwell is home to the West Essex Regional School District which also serves students from Fairfield, Essex Fells, and Roseland in grades 7-12 at the West Essex Junior High School and West Essex High School.
CALDWELL and WEST CALDWELL
The towns of Caldwell and West Caldwell are the most urbanized and densely populated in the West Essex area.
Caldwell was ranked by New Jersey Monthly magazine as its 3rd best place to live in its 2010 rankings of the "Best Places to Live" in New Jersey. Grover Cleveland, the 22nd and 24th President of the United States was born in Caldwell in 1837 and his birthplace is now a museum and open to the public.
Bloomfield Avenue is located in the center of West Caldwell and is home to many locally owned stores. West Caldwell has two public swimming pools and a number of small parks and land preserves.
Caldwell and West Caldwell share a public school district, the Caldwell-West Caldwell Public Schools. There are four K-4 elementary schools, one middle school and one high school. Additionally, West Caldwell is home to the Essex County Vocational High School for regional students who wish to learn a trade. Private schools include Trinity Academy for grades K-8 and Mount Saint Dominic Academy for grades 9-12.
The area is home to Caldwell College and the West Essex Campus of Essex County College is located in West Caldwell.
There is so much about The Caldwells and all of the wonderful towns in Essex County. I look forward to sharing with you the latest news on market trends and searching for homes that match your needs. Sign up to receive a customized list every week of the latest MLS listings. If you haven't visited the area before – give me a call to set up a tour. Let me show you a hand picked selection of homes that are available from the many possibilities of properties currently on the market.
For more information on how I can best serve your Essex County, NJ real estate needs, please fill out the online contact form or give me a call at 917-596-3508.
Laura Sulborski knows Essex County, NJ Real Estate.
Superior Results in Real Estate Services for Homebuyers and Sellers in the Montclair NJ area
Welcome to the best real estate resource for Living in North Caldwell – the only site you'll ever need for finding a home in North Caldwell and...
Search the MLS for homes for sale in West Caldwell, NJ. Every listing in one place. Featured listings, maps, resources.