Glen Ridge NJ Real Estate | Homes for Sale in Glen Ridge NJ
Glen Ridge, NJ is Montclair's quieter neighbor. A long and narrow community, at the most six blocks wide, Glen Ridge is located between Montclair and Bloomfield.

Of the 7,500 or so residents, about half of all households have children of school age. NJ school rankings consistently place Glen Ridge as one of the top-ranking school systems in the state. (NJ Monthly best schools). There are two elementary schools K-2 (Linden Avenue School and Forest Avenue School), the Ridgewood Avenue School for grades 3-6 and the Glen Ridge High School for grades 7-12. The Glen Ridge schools which promote academic achievement are a huge draw for those looking to explore a top ranked school system.

Ridgewood Avenue can be considered Glen Ridge's main street. Running the length of the community and lined by stately homes, here is where the Glen Ridge train station is also located. The Glen Ridge train stop is a couple of stops closer than Montclair to New York City with a schedule that puts commuters directly into New York City in about 20 minutes!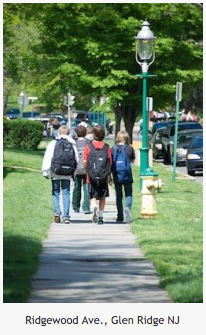 Glen Ridge traces its beginnings to 1666 and became an independent town in 1895. Of the many legacies left by the town founders, a standout is Glen Ridge's 665 gas lamps lighting its streets. Not only do the lamps add to the charm of the borough, but they are a functional design for an area that has so many tree lined streets.

Most of Glen Ridge is residential, with only a handful of storefront businesses. Among them is the popular Fitzgerald's Tavern. Fitzgerald's is a great place to eat if you are exploring the area, or Just Sandwiches or a quick bite! For flowers and gifts there is Eloise's Garden.Nearby, is the Glen Ridge Library which lends Kindles, laptops and offers a broad range of resources.