Homes for Sale in Bloomfield NJ | Bloomfield NJ Real Estate
More urban than its neighbor Montclair, Bloomfield has a downtown energized with a revitalization initiative currently underway. Along with its beautiful tree-lined neighborhoods, the Bloomfield Green Historic District, trendy Zagat rated restaurants, top notch parks, and a well regarded school system, Bloomfield has an ever growing arts scene and is home to several professional theater and dance companies, concert bands and orchestras. It is less than a half hour away from New York City by direct train and bus making for a quick commute.

The township of Bloomfield, which publishes its own newsletter for residents, has a lot to offer its 47,000 or so residents and takes up a thin sliver of northwestern Essex County of about five miles in length and one mile wide. Besides its neighbor Montclair, there is Glen Ridge to the west, Nutley and Belleville to the east and East Orange and Newark to the south.

Many choose Bloomfield as their community of choice after searching Montclair and Glen Ridge for homes. Most homes are closer together and smaller, and the prices and taxes much more affordable. For first-time homebuyers among those seeking real estate, the community remains a popular destination.

For neighborhoods, there is the mostly residential Brookdale and Oak View sections. Many homes in Brookdale are within a stone's throw of the beautiful 121 acre Brookdale Park designed by renowned landscape architect Frederick Law Olmsted, which has playgrounds, running track, tennis courts, soccer and baseball playing fields, off-leash dog park, and walking and biking trails. On the southern section of town, Bloomfield Avenue is lined with storefronts and municipal buildings. Nearby is Bloomfield's other large park – Watsessing Park. The community also boasts eight other smaller parks. There is also the Brookdale shopping district where Holsten's, a restaurant/ice cream parlor, remains a popular spot after the last scene of "The Soprano's" was shot there.

Bloomfield College, a liberal arts college founded in 1868, is near the town green.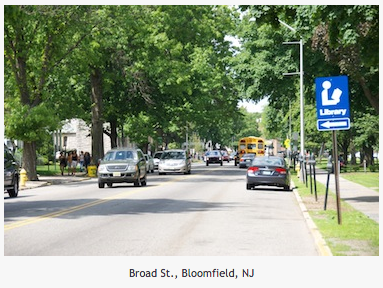 The Bloomfield Public Schools serve students in pre-kindergarten through twelfth grade. There are eight elementary schools, one middle school and one high school. Forest Glen School provides individualized programs and services to special needs students in grades 7-12.

Bloomfield has a stop on the New Jersey Transit Midtown Direct Train line and is closer to Pennsylvania Station than either Montclair or Glen Ridge. The commute by train takes about 28-36 minutes. Another transportation option is to take the DeCamp Bus Lines to the Port Authority in midtown. Travel by bus takes about 25 minutes.